Testimonials
Llanwern's Theatre of Dreams

Although more compact than its Manchester sister stadium Llanwern's Theatre of Dreams is no less impressive. It is undoubtedly a place where dreams can be made and past on course nightmare's set firmly aside.

My host for the session was a better fed, better sighted but nevertheless poor man's Stephen Marchant. On my arrival our Steve offered me both the friendliest of greetings and some mighty tasty freshly ground coffee.

As the session began I was invited to embarrass myself with a demonstration of the shortcomings of my own equipment and duly obliged. The superb technology captured exactly why I needed this fitting as I used my own clubs to hit shots short and right time and time again - who said consistency is everything in golf!

The fitting began with a comprehensive measurement of my bio mechanics. Arm length ( long ) leg length ( short ) posture ( somewhat stooped ). At this point I became pretty convinced that if ET were selling his clubs ( prior to leaving for home ) Steve was going to recommend that purchasing his clubs might be my best option.

Instead Steven ( or was it Stephen? ) proceeded to his own 'out of this world' performance outlining an encyclopaedic knowledge of all things golfing. Every detail made absolute sense and all were produced in a manner that your average golfer can fully appreciate.

The theatre contains the very newest of launch monitor and golfing software to demonstrate exactly how and why your golf clubs should be made to fit your game rather than the reverse.

Although the laughing and enjoyment never ceased we got down to the serious business of finding me the right personalised and individually suited clubs.

A quick process of elimination saw Steve expertly set aside shafts, heads and lies which were clearly not going to work before a shortlist of three dominated.

A few minutes later and a clear combination of head, shaft and grip was identified to produce remarkably consistent results. Not short ( in fact 15 yards longer ! ) not right, but correct and remarkably on the straight and narrow. As a very reassuring by- product self- doubt was beginning to be replaced with a quiet sense of confidence.

The session left me in no doubt about two things. Firstly that custom fitting in the Theatre of dreams is itself a highly enjoyable and rewarding experience. Secondly, and perhaps more importantly, I realised that a custom fit is only as good as the fitter and we at Llanwern are hugely fortunate to have professionals of the very highest capability.

Llanwern should be very proud that thanks to Steve and his team we now have a facility second to none where the unparalleled skills of our pros can turn golfing dreams into realities!

Ian Adams
(LGC member)
Andy Thomas Testimonal
"Booked a course of 6 lessons with Steve the Llanwern Golf Pro as I was struggling to play anywhere near my 26 handicap. Good easy to follow advice has revealed where I was going wrong. I am now hitting a lot of straight shots into greens and scoring 44 points or thereabouts off my handicap - which obviously needs adjusting. Would definitely recommend a course of lessons if you are not enjoying your golf anymore."

- Andy Thomas (Newport)
Nigel Corten Testimonial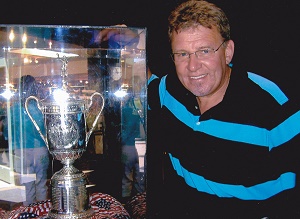 "I really did enjoy our lesson and you laughing at my golfing stories from around the world. Haven't talked about that for a long time . . . As a former golf writer for national and international publications, and an editor of a golf magazine, I have had quite a few 'tips' thrown my way over the years. Some have worked and some, well, I worked at them but they never paid off. A lot of golf lessons in the past have all been heavy in the diagnosis area where I have been going wrong, etc, etc, but never a proper 'cure', till my session with Steve Truman, at Llanwern GC.
I had had quite a serious shoulder injury which required surgery, followed by four months of recuperation, so my twice or three times a week golf days and a single-figure handicap were consigned to history. Upon return the 'shanks' had now crept into my round far too many times for comfort; I used to be visited by the dreaded 'S' word only once in about six games before my accident, but now it was six times every outing. I really did consider giving up the game, it was that bad, but I decided to do something about it and Steve was my first port of call. He not only did the diagnosis sketch, he quickly showed me a valuable 'cure'. I don't know if it was his or my style, but we had a laugh and a nice chat as we set about sorting out my problem on Llanwern's practice ground.
Once back in his studio, he showed me where it was all falling apart. A simple device, won't say what it was, instantly made a difference, and I put it into practice as soon as I went home. Three days later, I was out on the course and the practice with 'device' paid off. I'm really smiling now. Thanks, Steve."

Nigel Corten 

Frank Fahey Testimonial

"Hi Stephen,

Just wanted to place on record my experiences following my recent lesson with you.

Lesson

You personal approach immediately put me at ease and the way you handled my 'set up' shortcomings made for both an enjoyable and rewarding tuition. Having played golf under "my own steam" for over 10 years I now know what I've been missing by not getting expert guidance from time to time. I shall be back for a short game lesson in the next few weeks! Your professionalism was clear to see proven by how quickly my faults were corrected and within no time you had me driving the ball as I always aspired to. The fundamental changes do ,as you correctly forecast, feel a little strange but I have no doubt I will adapt quickly. Last Wednesday was the first opportunity after the lesson to put it all into practice and I scored my best stableford return for many months ! (39 points) but the real reward for me was hitting 11 out of 14 fairways whereas throughout last season my average would have been around 7-8.

Once again many thanks for your help and patient guidance.

Kind Regards,

 Frank "

Haydn Willis Testimonial

"I'm now in my 3rd season of playing golf and started with a handicap of 25. Having never hit a ball before I found most aspects of the game very tough and following advice from a fellow club member I approached Steve for a lesson. From the outset Steve was knowledgable, professional and was able to explain things clearly throughout. Starting to strike the ball better during the first lesson was really pleasing and encouraged me to book another lesson and so on and so forth. During the last 2 years I have worked closely with Steve and my handicap in now down to 5 and my game continues to improve. Having just had an incredibly successful season that resulted in several competition wins and 3 major club competitions is a testament to steve's ability and often patience.
My advice to fellow golfers would be simple, if you want to improve and enjoy golf more then lessons are a crucial step in helping achieve these. I would highly recommend Steve and believe him to be a top coach and we are all lucky locally to have access to him. Steve's main strengths would be that he keeps things simple and works with what you have as a player not what he would like you to have. He explains reasons why changes are needed and demonstrates throughout. He is very helpful in all aspects of golf including equipment and has a relaxed, friendly and entertaining personality which helps during those frustrating swing days. Book a lesson and hit better shots today.

Kind regards,

Haydn Willis"